The Busselton Historical Society would like to welcome you to the Busselton Museum which is housed in the Old Butter Factory.  The Old Butter Factory is a heritage listed building and was built in a time when limited mobility was not a consideration.  The Society has tried to make as much of our collection accessible to people with disabilities but the constraints of a historic building means that care needs to be taken. The site and floor plans below show the areas of the Museum and grounds that are accessible to people with limited mobility access and highlight areas where they should be assisted by their carer. It must be noted that some areas that are marked accessible may not be accessible to people in larger mobility vehicles and any entry to areas not marked as accessible will be at your own risk.
| | |
| --- | --- |
| 1. | The Heritage listed Factory Building has ten display rooms packed with photographs, equipment and memorabilia which trace the family, social, civic, commercial and maritime history of Busselton.  See the Floor Plans provided below for more details on each of the rooms. |
| 2. | Heritage listed Boiler House home to the original Lancaster Boiler which was used to power this Butter Factory when it was operational.  This building also houses the Harness Room, Wheelwright Shop and a operational Blacksmith Workshop. |
| 3. | The Smoke Stack which was used by the Lancaster Boiler |
| 4. | Storage container used by the BHS (no public access) |
| 5. | Storage Shed used by the BHS (no public access) |
| 6. | The John Cannam Shed which is used by BHS members as the Museum workshop for restoration and repair work (no public access) |
| 7. | Storage shelter used by BHS (no public access) |
| 8. | Replica of former Busselton Jetty pavilion |
| 9. | Original Teacher's Residence relocated from Jindong State School and converted into a schoolhouse by BHS members |
| 10. | Original Telephone Exchange relocated from Ambergate and restored by the BHS members |
| 11. | Machinery Display Shed housing historical farming equipment restored by the BHS members |
| 12. | Replica Group Settlement Humpy built by the BHS members |
| 13. | Public Toilets |
| 14. | Fishing Display |
| 15. | Original Group Settlement Pan Toilet relocated by BHS members |
| 16. | Shearing and Milking Display |
| 17. | Horse mill |
| 18. | Original Group Settlement Milking Shed moved and restored by BHS members |
| 19. | Replica Group Settlement Cream Room built by BHS members |
| 20. | Group Settlement House relocated from Group 44 and reconstructed on site by BHS members and the help of local suppliers |
| 21. | The Carriage Shed home to one of the best displays of restored horse drawn vehicles in WA |
| 22. | Original WW2 Medical Hut from Busselton Aerodrome, relocated and restored by BHS members |
| 23. | Original Hand water pump relocated and restored by BHS members |
| 24. | Original Vasse / Wonnerup Floodgates |
As you walk around the grounds read the Building Signs that explain the history of each building.
The Floor Plans of the Old Butter Factory are shown below.   All our publicly accessible rooms have Room Signs which explain what the room was originally used for, when it was built and any remnant architectural features
Read below for a summary of all the displays that are housed in the lower floor of the Museum.  Most of this floor is accessible by wheelchairs.
| | |
| --- | --- |
| 4. | TV Room where visitors can watch DVDs from our historical collection |
| 6. |  Reception & Early Settlers Room which contains items of general interest, including old cameras, guns, chinaware, embroidery, hung portraits of some of our early settlers  and many photo albums showing images of our local history. |
| 7. | Marine Room |
| 16. | The Timber Room, formerly the Pump Room, where you will find many tools of the early timber industry and a model of the former Barrabup Mill.  You can watch a video of this model in full working order. |
| 17. | The Early Settlers & Life Styles  room which, formerly the Cream Tipping and Washing Room, is where you can view miscellaneous appliances, sewing machines, shop scales, typewriters, old bottles and the Reg Bovell display. |
| 18. | The Dairy Room highlights the artefacts from the times when cream was a major product of this district. |
| 19. | On the Loading Dock / Laundry you will see a variety of old food storage items, refrigerators and laundry machines. |
| 20. | On the back verandah you can view the display of commercial Butter Making equipment |
| 21. | Cream Can Steriliser |
| 22. |  In the Open Exhibition Area you can view samples of non-fuel driven and domestic machines. |
| 23. | Entrance Ramp |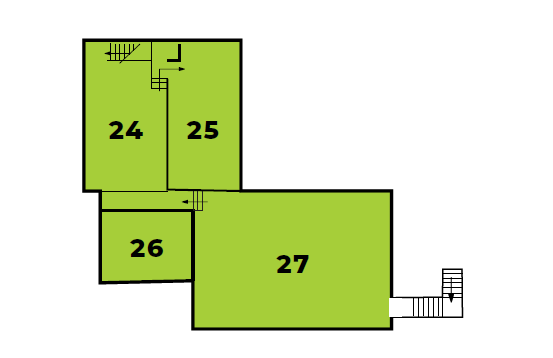 Upper Floor Plan of the Butter Factory.
Read below for a summary of all the exhibits housed in the upper floor of the Old Butter Factory.  Unfortunately there is no wheelchair access to this level of the building.
| | |
| --- | --- |
| 24. | Homelife where you can see how our forebearers entertained themselves |
| 25. | Bedroom & Nursery where you can see artefacts from bedrooms of the past.  A highlight of this collection is the Yelverton bed. |
| 26. | In the Kitchen you can see utensils and appliances from yesteryear |
| 27. | This was the room that was the seat of the 2018 Fire when nearly all the exhibits in the room were destroyed, including irreplaceable artefacts from some of our most prominent local early settlers.  This room is now used to house General Exhibits including the 2018 Fire story. |